Now you can buy trendy jewelry at far below wholesale prices.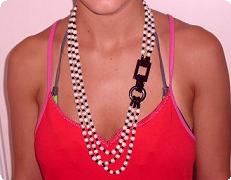 We found a company that specializes in selling pricey jewelry & chic accessories to professional women - doctors, lawyers & corporate VP's - through a "home party" plan much like a Tupperware® party but very upscale.
Since the parties are held in affluent homes it's important that they always show new items and never show the same merchandise twice.
That's where we come in. Near the end of the year we acquire the remaining inventory and market it online at very deep discounts ... and you get to save a bundle.
Pearl's - Jade - Onyx & More...
Brand New – All First Quality
No Second's – No Rejects
Trendy Jewelry - Far Below Wholesale
Deals Like This!
Everything is in our ebay store.
Go on; take a look, Click Here